'Red-handed' raiders jailed for 40 months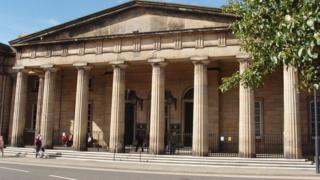 Two men who became trapped after breaking into a house have been jailed for a total of 40 months.
Del Banks and Liam Pringle were caught after police set up a cordon around the property in Perth.
Perth Sheriff Court was told officers smashed the front door to help them out of the house.
Sheriff William Wood told them: "You both have a serious drug problem and the public has to be protected from the consequences of that."
Banks was jailed for 26 months and will be supervised for a further 12 months on his release.
Pringle was imprisoned for 14 months with a seven month supervised release order.
Depute fiscal Sue Ruta told the court: "Two neighbours saw the accused climb onto a flat roof at the rear.
"Pringle reached down and pulled Banks up. They climbed in through a bathroom window."
'Caught red-handed'
Police arrived and saw Pringle inside the property in Cavendish Avenue.
Ms Ruta said: "A number of officers arrived and a cordon was placed around the property.
"Pringle came to the door and intimated he would leave the locus, but he couldn't as he was unable to unlock the door from the inside."
Banks and Pringle, who had been released on bail hours earlier, eventually managed to get out of a window and were arrested.
The court was told nothing had been stolen, but syringes were left in the householder's bed, and items strewn around the house.
Solicitor Billy Somerville, for Banks, said: "It was a fairly awful attempt at breaking in.
"They were caught red-handed and nothing was taken."
Banks, 27, and Pringle, 28, both from Perth, admitted breaking into a property on 29 January with intent to steal.
Sheriff Wood told them: "This was a planned offence.
"You were on the lookout for a property from which you could steal."