Murderer covered himself in baby oil to dodge prison officers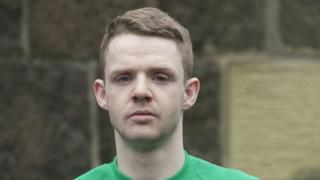 A convicted murderer covered himself in baby oil in a bid to stop officers transferring him from Perth Prison, a court heard.
Adam Gallagher stripped to his boxer shorts and doused himself with oil so he was too slippery for security staff to get hold of.
Gallagher told a court he had not wanted to be moved to HMP Barlinnie in Glasgow.
One of the G4S security team moving him was so frightened he fainted.
Gallagher also later damaged the G4S security van as he lashed out during the journey from Perth to Glasgow.
Gallagher, 28, is currently serving a life sentence for stabbing a 21-year-old Marek Smrz to death in Arbroath in 2006.
'I kicked off'
Representing himself, Gallagher said he had been held in a segregation unit for assaulting a prison officer before the incident on 18 December.
He said: "I had been there for seven weeks, and this day covered myself in baby oil before rolling about with the riot squad.
"I asked the G4S man's name in the van but he wouldn't tell me, so I kicked off. My adrenaline was high.
"I apologise for the man fainting, but these people are meant to be able to deal with this."
Gallagher was jailed for a further eight months for the incident.
He appeared in the same court earlier this month and admitted smashing up his cell in the segregation unit at Perth Prison after being told he was being moved.