Absconding killer Simon Brown given extra jail term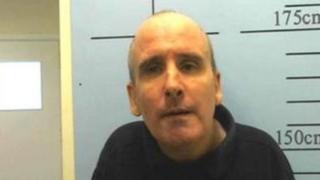 A killer who went on the run after being allowed out of prison over the festive period has had a year added to his jail sentence.
Simon Brown was eventually found living in a hotel nearly 500 miles away.
Brown, who was described as a danger to the public, went missing after being allowed to leave Castle Huntly near Dundee for a home visit.
He was granted the visit three years into his sentence for killing a man and dumping his body in a block of flats.
Brown was jailed for a further 12 months at Perth Sheriff Court, after admitting being missing from the open prison between 29 December and 3 January.
'Numerous convictions'
Depute fiscal Sue Ruta told the court: "He has numerous convictions for theft, breach of court orders, burglary, forgery, possession of offensive weapons and failures to attend court.
"He has a culpable homicide conviction from 2012 and his earliest potential release date is 30 August this year. He was a prisoner at Castle Huntly at the time of this offence."
Ms Ruta said Brown was granted temporary release from 27 December to 29 December and was taken by G4S staff to Dundee's Seagate bus station.
The fiscal said: "On 29 December he failed to appear back at the bus station.
"His details were circulated to the press and police forces around the UK.
"Information came to light that he may be in a hotel in south-west London.
Officers were told he had recently left. He was traced nearby and initially gave police a false name."
Illicit items
Solicitor David Holmes, defending, said Brown had chosen to go on the run because he was "vulnerable" behind bars and had been told to bring illicit items back into prison from his home leave.
Mr Holmes said he knew people in London and had gone there after deciding not to go back to the prison.
Sheriff Valerie Johnston jailed him for 12 months and said: "You caused police throughout the UK to be involved in an active search for you."
Brown and Paul Banks, 48, were both jailed for eight years in 2012 after they admitted killing John Carter, 44, by dragging him out of an Edinburgh flat and attacking him.
They were originally charged with murdering Mr Carter in February 2011, but admitted a reduced charged of culpable homicide.