Man jailed for 'disgusting' theft from disabled mother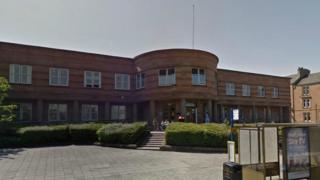 A Falkirk man who stole his disabled mother's bank card and withdrew more than £500 from her account has been jailed for eight months.
Scott MacGregor's mother, who has multiple sclerosis and uses a wheelchair, needs two-hourly care.
The 36-year-old, who Falkirk Sheriff Court heard had a long-standing alcohol and drug problem, admitted committing the theft in November 2015.
A sheriff told MacGregor it was a "fairly disgusting" crime.
The court was told that the only people with keys to MacGregor's mother's home were her carers and her son.
On 8 November she was put to bed at about 22:00 by her carers, who then locked her front door, but two hours later she heard her front door opening and closing.
Prosecutor Samantha Brown said: "She thought that somebody was in the house, but because of her mobility she wasn't able to check that."
In the morning, her carers found her front door unlocked and it was discovered that £40 and her bank card was missing.
'Beyond redemption'
Ms Brown said: "She contacted her bank and found that £500 had been taken out of her account in one transaction."
She contacted the police and told them that the accused was the only person who would have access to her house as well as her pin number.
MacGregor pleaded guilty to stealing his mother's bank card and £40, and using the card to withdraw a further £500 from her account via a cash machine in Main Street, Bainsford.
Defence agent Martin Morrow said his client was "disgusted with himself."
Mr Morrow said: "He says he has caused enormous distress to his mother and he feels so ashamed he wants to go to prison.
"As far as he sees, he has put himself beyond the pale and beyond redemption."
Summary Sheriff Derek Livingston told MacGregor: "I agree with you - you do deserve to go to prison for this.
"Your mother must have been terrified when she heard the door opening and closing again.
"She would have had no idea what was going on.
"She'd put you in a position of trust by giving you a key - it's a fairly disgusting crime."