Thousands of costumed characters head for Dundee DeeCon festival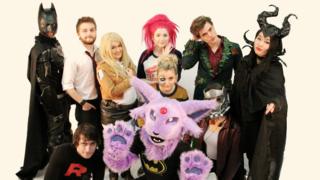 Superheroes and Samurai are among the costumed characters expected at this year's Dundee DeeCon on Saturday.
The annual anime, animation and art convention attracted over 4,000 visitors to Dundee University Students' Union (DUSA) last year.
The event includes film screenings, exhibitions and the Cosplay Masquerade where the costumes are on display.
Proceeds will go Duncan of Jordanstone College of Art and Design's animation degree show.
A video games showcase will feature student projects and work from Dundee-based Ruffian Games.
The film screenings include several Japanese animations which have yet to be released in the UK.
Adam Balson, a member of the organising committee, said, "DeeCon had been taken as far as it could as a free, one-venue event so this year three buildings on campus will be hosting events and the small ticket price will allow access to all of them.
"This year we will once again be integrating the Dundee Comics Expo and have several comic artists and creators hosting talks and workshops as well as the films, games, competitions, fancy dress and other fun things taking place."