Dundee man James McLintock put on 'global terrorist' list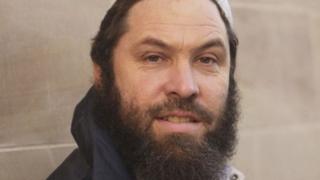 A Dundee-born man has been added to an official list of "global terrorists" by the United States Treasury.
James Alexander McLintock, who is thought to be 52, is accused of raising money for terrorist groups.
Mr McLintock is believed to have converted to Islam in his 20s, changed his name to Yaqub McLintock and moved to Pakistan with his family.
The US Treasury claimed a charity he founded is a front to raise money for extremist groups.
It alleged the Pakistan-based Al-Rahmah Welfare Organisation channelled funds to al-Qaeda, the Taliban and other Afghan-based groups.
In a statement the Treasury said: "As of early 2013, McLintock recruited Afghan insurgents to obtain photos of children, Afghan identity documents, and cell phone numbers to create falsified dossiers used to obtain donations for RWO, which were funnelled to support al Qaida.
"As early as 2010, McLintock used RWO and the cover of providing stipends to Afghan orphans to finance the Taliban's militant activities in Kunar Province, Afghanistan."
The department said McLintock also regularly met Taliban and other militant commanders.