Man jailed over crash which broke passengers' backs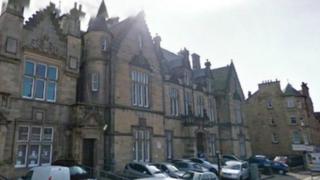 A driver who overturned his car, breaking his passengers' backs, as he tried to evade police officers has been jailed for eight months.
Kasiem Ahmed, 24, accelerated when police tried to stop him on the A81 road between Drumgoyne and Blanefield in November 2014.
Stirling Sheriff Court heard that Ahmed misjudged a corner, hit a grass verge, and overturned his Vauxhall Corsa.
Ahmed, from Bearsden, Glasgow pleaded guilty to dangerous driving.
The court heard the vehicle ended up on its roof in the middle of the road, having narrowly missed colliding with two passing cars in the course of the accident.
Excessive speed
Ahmed's car was badly damaged, and two passengers he was carrying were seriously hurt.
Sheriff Wyllie Robertson told Ahmed he was fortunate not to have been convicted of causing death by dangerous driving.
Sheriff Robertson told him it had been a period of sustained, intentional driving at excessive speed.
He said: "The police activated their sirens to try to stop you but you were driving so fast you were lost from their sight, until of course they came across the accident.
"In the course of this your friends sustained serious injuries - they both sustained broken backs.
"In all these circumstances, despite your lack of record, I am satisfied that no sentence other than custody is appropriate."