Dundee's Tin Roof Collective closes studio and exhibition space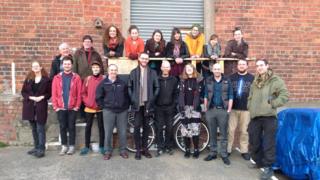 Dundee artists collective Tin Roof is to close its Bellfield Street base this summer saying it was "no longer viable" to remain there.
The volunteer-run charity has hosted studios and exhibition spaces at the building in Dundee's west end since 2011.
Tin Roof said it could not afford the "significant renovation" required to comply with building laws.
It will try to find new spaces for its 22 resident artists and designers.
Founding member and chairwoman Joanna Helfer said: "We appeal to anyone in Dundee who might have vacant space they might be willing to lease to artists, long or short-term.
"As an organisation we will be using this opportunity to reflect and spend some time researching future options.
"We have big dreams for Tin Roof and hope to continue making a difference to the creative landscape in the city."
'Amazing event'
Miss Helfer said: "We are devastated by this turn of events which mean our much loved building will no longer be available to us, particularly as it has been such a valuable resource to so many people over the past five years."
"We are also planning an amazing event to celebrate the collective before we leave our building which we will release details of soon."
Tin Roof was founded in 2010 by graduates from Dundee's Duncan of Jordanstone College of Art and Design.
The college's acting deputy dean, Janice Aitken said: "I hope that although Tin Roof will no longer be based in the Bellfield Street space and may no longer be in a position to provide studios, the community spirit and positive, supportive attitude of Tin Roof will carry on in an evolved form."