Man found guilty of hare coursing jailed for four months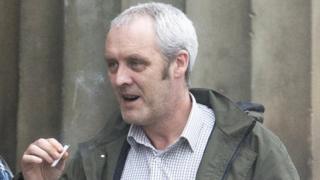 A man caught hare coursing with his son and a pack of dogs has been jailed for four months.
Mark Reid, 45, was also banned for six years from keeping any dogs.
Reid's son John Stewart, 21, was earlier banned from keeping dogs for two years and ordered to carry out 100 hours unpaid work after the pair were found guilty of hare coursing.
A court heard they set their lurchers on the wild hares and watched as the dogs tore the animals apart.
Reid, from Dundee and Stewart, of Kiltarlity were found guilty of deliberately hunting brown hares with three dogs at West Cultmalundie Farm, Tibbermore, on 2 November last year.
Two other men, from Dundee and Arbroath, were cleared during the trial due to a lack of evidence linking them directly to hare coursing.
Previous conviction
Solicitor Douglas Williams, defending Reid, said: "He has a previous conviction for this activity from Forfar and he comes from a background where this activity has, to an extent, been normalised.
"When he returns to his extended family in Ireland, hare coursing isn't illegal and is ongoing.
"He goes to Ireland once a year and part of the activities he gets involved in is hare coursing."
Sheriff Lindsay Foulis said: "The whole tenor of the report is indicative of someone who quite frankly doesn't consider they have done anything wrong and has no intention of altering his ways.
"Against that background I have very considerable reservations whether any fine of a significant nature would be paid."