Sistema youth orchestra gets £2.5m funding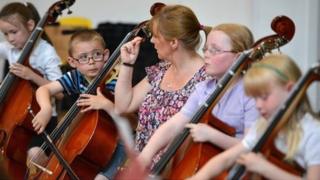 A youth orchestra programme in three of Scotland's most disadvantaged areas is to get £2.5m in Scottish government funding over the next four years.
Sistema Scotland works with more than 1,500 children and young people in Raploch in Stirling, Govanhill in Glasgow and Torry in Aberdeen.
It aims to transform their lives, opportunities and prospects through Big Noise youth orchestras.
The funding should allow an extra 700 young people to join the orchestras.
Culture Secretary Fiona Hyslop said: "No young person's background should be a barrier to taking part in cultural life or realising the immeasurable benefits that the arts can bring.
"I want every child and young person in Scotland to be able to reach their full potential and fulfil their ambitions."
She said independent evaluation had confirmed Sistema Scotland was increasing the confidence, aspirations and self-esteem of the children involved.
The project is based on the methods of Venezuela's "El Sistema" movement.
The first orchestra in Scotland was established in Raploch in 2008 and the second in 2013 in Govanhill.
A third Big Noise Centre in Torry, Aberdeen was launched on 29 June 2015.
The Scottish government provided funding of £1.575 million to Sistema Scotland during the four years to 2015/16.