Evelyn McCabe and Steven Bown killed in Dundee fire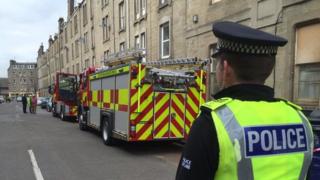 A woman and her son were the victims of a fatal fire in a top floor tenement flat in Dundee.
Evelyn McCabe, 56, and 31-year-old Steven Bown died in the blaze in the city's Park Avenue.
Firefighters were called to the flats at about 07:00 after a neighbour saw smoke coming through the ceiling.
A joint investigation by Police Scotland and the Scottish Fire and Rescue Service has begun into the cause of the fire.
Downstairs neighbour Sean Rowan, 25, who raised the alarm, said: "I heard creaking coming from the ceiling, I thought someone had possibly left the tap on.
"It was only when I got up and turned on the light in my room that I saw a big black spot on the ceiling with white smoke coming from it.
"I called 999 and they told me to get my flatmate and anyone else out of the flat immediately.
"I asked on the phone whether I should go and knock on the door upstairs and they said no just get straight outside."