Man and woman dead after morning blaze at Dundee flat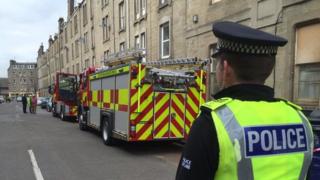 A man and a woman have died following a fire in a top-floor tenement flat in Dundee.
Emergency services were called to a fire at the property in the city's Park Avenue at about 07:00.
A cordon was set up while police, fire crews and ambulances attended the scene. It is thought about 10 people were evacuated from the block.
The identities of the two who died have not yet been released.
Downstairs neighbour Sean Rowan, 25, who raised the alarm, said: "I heard creaking coming from the ceiling, I thought someone had possibly left the tap on.
"It was only when I got up and turned on the light in my room that I saw a big black spot on the ceiling with white smoke coming from it.
"I called 999 and they told me to get my flatmate and anyone else out of the flat immediately.
"I asked on the phone whether I should go and knock on the door upstairs and they said no just get straight outside."
Henry Stewart, 70, who has lived in the building for 23 years, said news of his neighbours' deaths was "tragic".
He said: "I kept looking out of the window and I saw this youngish guy laid out on the pavement and the paramedics and fire engine boys were working on him giving him CPR.
"I knew when I saw the guy, I knew he wouldn't make it."