Novice driver caused £12,000 worth of damage in forecourt crash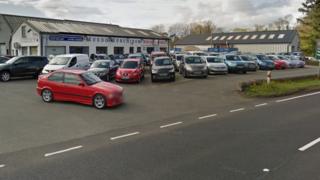 A novice driver crashed her car into a showroom forecourt causing over £12,000 worth of damage, a court heard.
Nadia Anwar, 24, veered across the carriageway of the A84 at Doune at about 03:00, while on her way to see her boyfriend.
Her vehicle then collided with a row of used cars in the forecourt of the roadside showroom.
Anwar, of Bannockburn, was fined £300 and had her licence endorsed with four points at Stirling Sheriff Court.
The court heard that Anwar had only passed her test months earlier and felt the car slipping to one side before it left the road.
The vehicle ricocheted off the wall and crossed both carriageways before swerving into the forecourt of Murdo Murchison Car Sales.
Extensively damaged
Three display vehicles and Anwar's own Vauxhall Corsa were extensively damaged in the incident.
Prosecutor Ruariadh Ferguson said: "The accused was uninjured, and, having secured her vehicle, she went home."
Police attended her home an hour later, where she admitted being the driver.
Anwar, of Myreton Avenue, Bannockburn admitted careless driving on 7 November.
Gordon Murphy, defending, said: "She thinks her rear wheel collided with the kerb, and that resulted in her losing control, crossing the road, hitting the dry stane dyke, and coming back across the road into the forecourt."
Sheriff William Gilchrist fined Anwar £300 and ordered her licence to be endorsed with four penalty points.
He said: "I assume this matter is being prosecuted in the sheriff court because of the extent of the damage, in monetary terms.
"That's not particularly relevant to the sentence I have to apply, which, rather, is based on my assessment of how bad your driving was."