Fraudster postmistress Carol Oswald ordered to pay back £100,000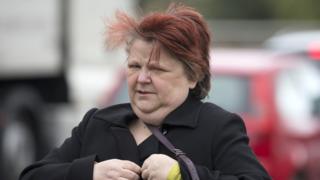 A postmistress who embezzled more than £100,000 from her employer and a community group has been ordered to repay the money.
Carol Oswald was told to pay almost £90,000 to the Post Office and more than £8,000 to the estate of one of her victims.
Oswald is serving 40 months in jail after she admitted embezzling more than £110,000 over five years.
The sub-post office manager embezzled the money to fund a gambling habit.
Sheriff Lindsay Foulis ordered confiscation of £100,000 Oswald had made from the proceeds of crime.
Position of trust
She was ordered to pay £89,573 to the Post Office, £8,059 to the executors of Jean Johnston's estate, and £2,367 to Letham Climate Challenge.
Oswald also stole more than £8,000 from 81-year-old Jean Johnson, who trusted her to run the Post Office.
The 53-year-old previously admitted embezzling £100,000 from Letham Post Office between 1 January 2008 and 6 December 2012.
She further admitted embezzling £2,367 from Letham Climate Challenge while she was a trustee of the charity.
Oswald had been asked to set up a bank account for the charity but had not done so, and kept tax payments she was due to make on its sole employee's behalf.