New Dundee Waterfront street and pavement network to open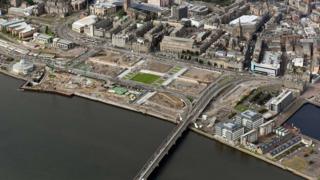 New streets and pavements connecting Dundee Waterfront to the city centre will open to the public for the first time this week.
The grid pattern will become operational on Friday following two years of construction work.
Dundee City Council said the project had been completed on time and on budget.
The new Slessor Gardens will be fenced off for the rest of the winter to allow grass and trees to grow.
Council leader Ken Guild said: "This part of the development will have a massive impact on the city because now people will be able to drive and walk on the new streets connecting the centre to the riverfront.
"I am delighted to say that, in the main, drivers using the area have been understanding and welcomed the phasing of the construction, which meant we were able to keep traffic flowing through what was at times a complex operation.
Mr Guild said "a considerable amount of effort" was being focused on generating and building on developer interest in plots that the new street pattern had created.
He said: "The two recent announcements by developers of investment totalling £60m is just the start."
Contractors Sir Robert McAlpine were responsible for the £11m creation of the new routes.