Clive Wright named as new Stirling poet laureate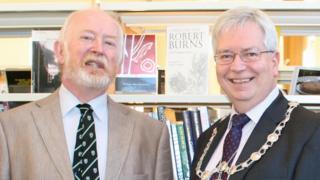 Stirling Council has appointed Clive Wright as the city's third contemporary poet laureate.
The Stirling Makar is a ceremonial position that dates back to the 15th Century and the reign of James IV.
Mr Wright will hold the post for three years and produce a poem a year to celebrate the Stirling area and its people.
The post was revived in 2009, with the appointment of Magi Gibson and then Anita Govan in 2012.
Mr Wright, who is a teacher, has lived in Stirling for more than 30 years and has written extensively on the area and its rich heritage.
He said the appointment was "a great honour."
'Unique buzz'
Mr Wright said: "Stirling is such a wonderful place to live and to write about - not only the city but also the local areas and villages that give it its unique buzz and character.
"My aim is to pass on my own passion and to encourage others to take up the pen."
The Makar will also work with the council's civic office and the culture, libraries and archives service to help deliver a programme of events, performances and workshops.
Provost Mike Robbins said: "The selection panel was faced with a difficult decision due to the calibre of nominees.
"Clive follows in the footsteps of Anita Govan and Magi Gibson and we wish him every success in the post of Makar.
"I will be looking forward to his first formal piece for Stirling Council later this year."