Mystery rock carving in China baffles Scottish distillery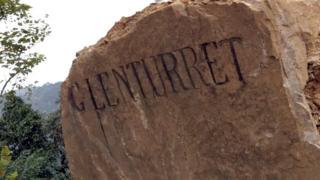 A Perthshire distillery said it was "baffled" after construction workers in China uncovered a large rock with its name engraved on it.
Glenturret has appealed for information after the carving was unearthed during an excavation for a new holiday resort.
Developers said some of the property belonged to a Scottish missionary doctor who worked in the area in the late 1800s and early 1900s.
The find was made at Moganshan, two hours from Shanghai.
It is understood Dr Duncan Main had a castle on the land, built in 1910, that was used as a summer retreat.
The castle passed into the hands of the government of Zhejiang during China's nationalisation, before being handed back to Dr Main's son.
It was then sold to a car company and opened as an inn before being torn down in the 1960s.
The distillery's general manager Stuart Cassells said: "We have yet to find a link between Dr. Main and our own region of Crieff.
"We're wondering if perhaps Dr. Main was such a fan of his native drink that he was one of the first importers of Glenturret whisky to China.
"Another possibility is that the rock has uncovered a link not to Glenturret distillery but to a British steamship called Glenturret that we also know existed."