Owners of fire-ravaged Broughty Ferry launderette vow to reopen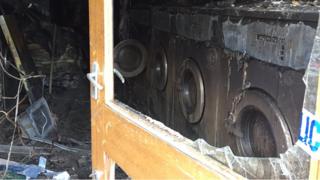 A Broughty Ferry launderette destroyed in a fire will reopen within eight weeks, its owner has said.
Grossi's in Gray Street was gutted in a blaze in the early hours of Tuesday.
Owner Michael Grossi said the launderette was now "a shell" and would be completely refitted following the fire, which was not started deliberately.
The launderette was previously destroyed in a fire in August 2005.
Mr Grossi said: "It's just a shell basically left. Sadly we've been through this before 11 years ago and we sort of know what it requires.
"It's a complete refit. We've got the verbal go-ahead to clear the place out, so that will probably take at least a week.
"It's a tortuous process but we did it in about eight weeks last time. At least we know the timescales involved."
No suspicious circumstances
Scottish Fire and Rescue conducted an investigation into the blaze and said there were no suspicious circumstances.
Mr Grossi said: "I imagine by Monday we will have a definitive answer from them because the forensics guys were in first then the insurers sent their specialist."
He said the "one glimmer of good news" was the insurers will allow them to use a vacant unit across from the premises from next week to collect laundry which will be cleaned at their other outlets.