Beavers 'help to prevent flooding', says study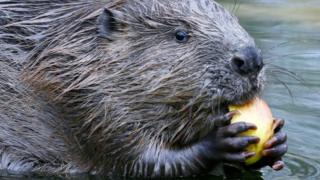 Scotland's beaver population may help to prevent flooding, according to an academic study.
The rodents, which are living wild around the River Tay, were accused by some locals of contributing to flooding in the Perthshire village of Alyth.
But Stirling University researchers said beaver dams helped to mitigate flooding by storing and then slowly releasing water.
And they said beaver dams also helped to improve local wildlife habitats.
The study was part of a 13-year programme of research by the university's scientists, who studied streams which drained water from 13 hectares of surrounding countryside.
Areas where beavers were known to have been active were compared with areas in which they were absent.
Pools created by the dams had 20 times more aquatic plant life, and the number of species in the surrounding habitat was 28% higher.
There were also fewer agricultural pollutants present, with the levels of phosphorus at about half of those in the inactive areas and nitrate levels 40% lower.
But the researchers said the benefits brought by beavers had to be weighed against the potential for occasional negative impacts on fisheries, forestry and farm crops.
Farmers and landowners have said the animals damage trees and cause flooding in fields alongside burns and rivers.
Dr Nigel Willby, of Stirling University's School of Natural Sciences, said: "Beavers have been previously incorrectly blamed for flooding, particularly near Alyth where our study was conducted.
"However, all the beaver dams remained standing upstream of the floods during July and more recent flooding.
"Our work points to the fact that by having the beaver dams present on a stream the floods are locally mitigated, as these dams store and slowly release water, unlike an un-dammed, straight streams where water flows without obstacle."
The research has been published in the Wiley-Blackwell journal Freshwater Biology.
NFU Scotland deputy director of policy Andrew Bauer said: "Statistically, it was always likely that there would be small pockets of land where the environmental benefit might outweigh the considerable problems being caused.
"There is no indication where the 13 hectares mentioned in this case are, but any benefits seen in localised areas will need to be viewed by the environment minister against the damage being done to productive farmland, long standing flood banks and established woodland on large parts of Tayside."
Anne Gray, policy officer at Scottish Land & Estates, said: "We are not opposed to official trials of beaver reintroductions but this process has to be properly managed, which did not happen with the illegal release in Tayside.
"As we know from the trial at Knapdale, there may be some environmental benefits from beavers but this must be balanced against the negative impacts on many farm and forestry businesses."
Eurasian beavers were hunted to extinction in Scotland in the 16th century, but the Scottish government has been trialling a reintroduction scheme at Knapdale Forest in Argyll.
The Tay beavers are unconnected to this official reintroduction, and are thought to have originated as escapees or illegal releases from private collections.
Last month, there were calls for restrictions on shooting beavers to be introduced after it emerged animals that were heavily pregnant or had recently given birth were among those shot by landowners in Tayside.