Katherine Garrett-Cox to leave Alliance Trust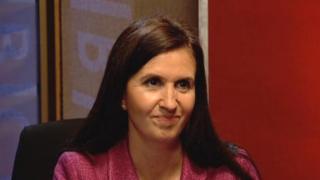 Alliance Trust has announced that Katherine Garrett-Cox is to step down as head of its fund management wing.
The move followed "discussions" with the board over her role as chief executive of Alliance Trust Investments (ATI).
Ms Garrett-Cox took on the post late last year after standing down as chief executive of Alliance Trust following a battle with an activist investor.
The Dundee-based company said her responsibilities would be "reassigned".
Ms Garrett-Cox, who joined the firm nine years ago, will leave on 11 March.
She joined Alliance Trust as chief investment officer in 2007, before becoming chief executive in 2008.
Last year she was paid £1.4m by the company.
Alliance Trust has seen a major management shake-up in recent months, with the departure of chief financial officer Alan Trotter and chairwoman Karin Forseke. Lord Smith of Kelvin has since taken over her role.
It followed demands for a change in governance from US-based activist investor Elliott Advisers.
---
Analysis by Douglas Fraser, BBC Scotland business and economy editor
Eight years as chief executive of a listed company isn't a bad run, particularly if earnings last year hit £1.4 million.
But those years have been tough going for Katherine Garrett-Cox at Alliance Trust, as she's spent much of that time under siege by activist shareholders.
---
In a statement on Monday, the firm said: "Alliance Trust plc announces that, following discussions between the board of Alliance Trust Investments Limited (ATI) and its chief executive, Katherine Garrett-Cox, about the future requirement for the chief executive role within ATI, it has been mutually agreed that Katherine Garrett-Cox will stand down as chief executive.
"The responsibilities of the chief executive will be reassigned. ATI's experienced team of investment professionals will continue to manage the £5bn of funds.
"Investment responsibilities are led by Peter Michaelis and the team who joined ATI in 2012 and have been managing the trust's equity portfolio since October 2014.
"Operational responsibilities will be passed to Ramsay Urquhart as Managing Director, ATI."
'Significant change'
Lord Smith said the company was "undergoing significant change" to improve both its operating performance and investment returns.
He added: "It has always had investment expertise at its heart and Katherine has done much, over the past nine years, to refocus the investment portfolio on its traditional strengths in global equities.
"Alliance Trust is now moving swiftly to implement the changes announced last year which are designed to enhance shareholder returns.
"This process is well underway and it is clear to us all that the role of chief executive of Alliance Trust Investments has changed significantly."
Ms Garrett-Cox said: "I am very proud of the significant achievements that my team has delivered over the past nine years at Alliance Trust.
"It has been an honour to have had the opportunity to represent and protect the long-term interests of so many shareholders and to have been a guardian of the trust's historic purpose of investing for generations.
"I leave Alliance Trust Investments with a strong team who are already delivering improved investment returns and driving down costs."