'Significant progress' at Ninewells Hospital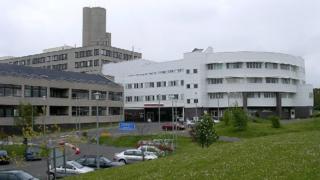 Scotland's chief medical officer says Ninewells Hospital has made "significant progress" following an inquiry into patient safety in A&E.
Dr Catherine Calderwood visited the emergency department of the Dundee hospital last June to investigate claims made by a whistleblower.
It was alleged that surgical teams were prevented from seeing patients in order to manipulate A&E waiting time figures.
Dr Calderwood found no evidence to support the waiting times claims.
But she made a series of recommendations, including improving communication between emergency department staff and other speciality teams.
Allegations had also been made that medical teams were being bullied and prevented from seeing potentially seriously ill patients.
'Increased communication'
After a follow-up visit, Dr Calderwood said: "Having returned to review progress at Ninewells, I am satisfied that significant progress has been achieved in delivering these recommendations.
"It is evident that increased communication and collaboration with speciality departments and A&E has resulted in improved inter-department relationships and improved patient-focused care.
"Good practice is also being shared via the guide for doctors interacting with emergency medicine which has been extended to provide guidance on all unscheduled care departments."
She added: "Further improvements between emergency medicine and general surgery are still under way, with the opportunity provided by the 'Shaping Surgical Services' review delivering increased communication and collaborative working."