Jail for man who posted intimate photos online of his ex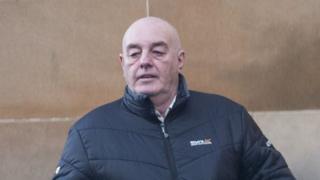 A man was jailed for two years for sending intimate pictures of his ex from her email account to someone using a swingers' website.
Gordon Sime, 63, had bombarded the woman with daily text messages and phone calls after they broke up.
Sime then hacked in to her email account and sent pictures of the two of them having sex to a random man on a swingers' website.
He also sent her phone number inviting the man to "text if he liked them".
Sime's betrayal of his ex was only discovered when the man sent her a message confirming he had received the pictures.
Sheriff Tom Hughes jailed Sime for two years for stalking at Dundee Sheriff Court and imposed a four-year non-harassment order.
He said: "This required considerable planning on your part - it was not a spur of the moment offence.
"It had a very real impact on the complainer - she has been left depressed and insecure.
"The courts will not tolerate this and in view of the serious nature of the offence custody is inevitable."