Dundee's polar exploration heritage inspires art students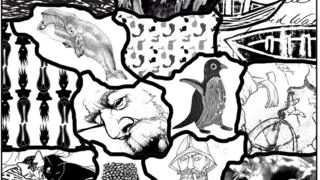 Artworks inspired by connections with polar exploration and whaling are going on show at the University of Dundee.
The city was a major centre of the European whaling industry with Dundee men sailing regularly to the Arctic.
The whalers brought back products from whales, and also specimens for museums and Inuit artefacts.
Stories of polar adventure have inspired students at the University's Duncan of Jordanstone College of Art and Design to create artworks.
Dundee student Alister Forbes Mackay was a member of the first party to reach the South Magnetic Pole in 1909.
The city's expertise in building whaling ships saw the Discovery and many other Antarctic exploration vessels being built in the city.
The students' work will be showcased in the Pole Tay Pole exhibition, alongside specimens brought back from the Arctic and Antarctic.
Tutor Natalie Russell said: "The students have created a diverse range of imaginative works inspired by the amazing resources on offer.
"The work will be displayed in the wonderful setting of the Zoology Museum and will include drawings, prints, paintings, books, sculptural objects, assemblages and research journals that map the students' creative journeys."
The exhibition previews on 12 February from 17:30 - 19:00 and then opens for one day only on 14 February at 11:00 to 16:00.