Licence fee excuses brought to life by animation students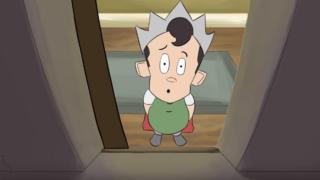 Animation students in Dundee have brought to life some of the UK's strangest excuses for not having a TV Licence.
The Duncan of Jordanstone students have turned reasons given to TV licensing staff into animations as part of a national competition.
Excuses ranged from claiming the television was a microwave to a man who said he was King of Scotland.
Dozens of films have been submitted from students across the UK.
Duncan of Jordanstone is part of the University of Dundee.
Sharon Campbell, the college's animation course director, said: "We developed a brief around the competition requirements that gave them the opportunity to develop a script, work with professional voice over actors and sound designers, create pre-production art and produce and finish an animation to broadcast quality."
Criminal offence
The licence fee currently costs £145.50 per year for every UK household where people watch or record live TV.
Watching TV without having a licence is a criminal offence punishable by a fine of up to £1,000.
The Dundee students are competing against entries from Middlesex University, Ulster University, University of Bristol and University of Derby.
Prizes will be awarded for the people's choice and the judges' award, made by a panel of animation industry experts.