Researcher awarded £2m grant to unlock secrets of DNA damage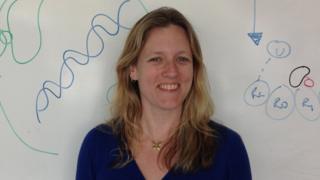 A Dundee University researcher has been awarded a £2m grant to discover what causes DNA damage that can lead to ageing and disease.
Dr Helen Walden and her team will explore how to repair the damage caused when two strands of DNA become bound during replication.
The body can usually undo the bind but if this does not happen it can lead to diseases, including cancer.
The European Research Council funding will create four new posts.
Dr Walden, of the university's school of life sciences, said: "Every time a cell divides it copies all genetic material.
"DNA replication is a fundamental process of the human body but the DNA helix needs to be unwound for it to take place.
"Interstrand crosslinking means this can't take place and what we want to do is understand how this sort of DNA damage can be fixed."
The pathway to repair this type of damage relies on the attachment of a signal to a protein called FANCD2.
This signal is then read, translated, and ultimately removed. The Dundee team wants to understand how the signal is created, how it is read, and how it is removed.
Cancer cells are particularly susceptible to crosslinking due to drugs used in the treatment process.
The team hopes that attempting to disrupt the pathway could lead to more potent anti-cancer drugs.
Dr Walden said: "The body can normally clean up errors like crosslinking and we know modification of FANCD2 is a key signal to fix this particular type of DNA damage.
"What we don't know is how it works, what switches it on and off and why it works more effectively in some people than others."