Falkirk Wheel car parks being 'used as a race track'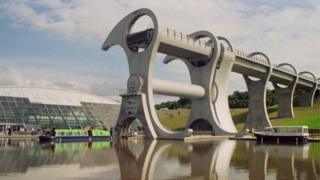 Residents beside the Falkirk Wheel are being kept awake by drivers using its lower car parks as a 'race track', police have said.
Four motorists have been warned in the last two weeks after reports of excessive engine noise, tyre screeching and misuse of car horns.
Community officers in Camelon said a minority of car enthusiasts meeting there were responsible for the noise.
Police said reoffenders risked having their vehicles seized.
A Police Scotland spokesman said: "The complaints relate mainly to the driving manner of a minority of town cruisers who seem intent on using the public car park as a race track.
"This causes disruption to the local community who are being wakened through the excessive engine noise, tyre screeching and the misuse of car horns, not to mention the road safety aspect."
PC Arthur McInnes said: "We have worked hard over the years to form a good relationship with the town cruise events and I am disappointed to see a minority who are intent on causing anti-social behaviour.
"Where required, we will enforce the legislation and use the CCTV cameras to identify offenders if not stopped at the time."