Repairs to Bleaton Hallet bridge could cost £1m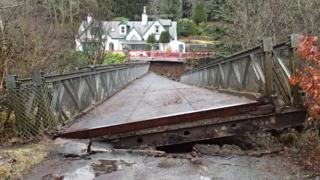 The cost of repairing a storm-damaged Perthshire bridge could reach £1m, according to the council.
The Bleaton Hallet crossing over the Black Water was dislodged from its foundations after Storm Frank on 30 December.
Perth and Kinross Council now plans to replace the 82ft (25m) bridge, which links the A93 and Alyth, with a new structure.
The existing bridge deck is expected to be replaced by the end of April.
The damage was caused by severe weather conditions which washed away an end support and left the bridge deck twisted.
The local authority wants to remove the bridge deck before it builds a new support and bridge across the Black Water.
A spokesman for Perth and Kinross Council said updates would be provided once the work was completed.
He said: "This will be a complex project to undertake due to the constraints of the site, and we are presently undertaking detailed planning for a programme of works.
"It is hoped potentially to remove the existing bridge deck by the end of April 2016, with the programme for the replacement bridge still being looked at. Early estimates for overall project costs are in the region of £1m."