Tay Bay Bridge carriageway to close for Storm Henry repairs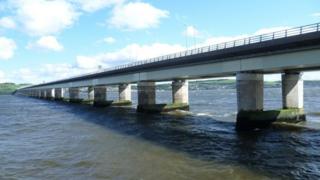 The Tay Road Bridge's southbound carriageway will close briefly tonight to repair damage caused by Storm Henry.
Lighting column heads were twisted after 100mph winds were recorded on the bridge's south tower on Monday night.
The carriageway will close shortly after midnight and the repairs are expected to take about 30 minutes.
The bridge was closed to all traffic at the height of the storm, the second time it has been closed due to extreme weather in the last week.
Tay Road Bridge manager Alan Hutchison said: "The column heads have been twisted and we need to disconnect one or two of them and put them back on.
"They are secure, but we need to get a cherry picker and Tayside Contracts are assisting us. We just need to put them into the right orientation."
Recent warnings
Mr Hutchison said drivers of high-sided vehicles also appeared to be heeding recent warnings not to cross the bridge when restrictions were in place.
At 60mph winds the bridge is only open to cars, unmodified transit vans and single-decker buses and the central walkway is closed to all users, but some drivers have been ignoring the restriction.
Mr Hutchison said: "It certainly made an impact. We did the same last year.
"People just need reminding now and again that vehicles do blow over.
"We need to make sure people understand the implications of that."