Serious violent crime increased at T in the Park festival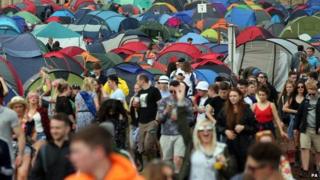 T in the Park recorded the most serious assaults in its history last year, but overall crime at the festival dropped, a new police report has revealed.
There were six serious assaults at the 2015 event, its first at Strathallan in Perthshire, compared to one in each of the festival's previous three years.
Police said the rise could have been linked to a type of hallucinogenic ecstasy circulating at the festival.
There were 266 drug offences at 2015's event, down from 315 the previous year.
Between 60,000 and 70,000 people attended the festival each day in 2015, fewer than previous years.
Police Scotland's report to Perth and Kinross Council's community safety committee states: "There were six serious assaults recorded in 2015, the highest number of such crimes ever recorded at T in the Park.
"Only one serious assault was recorded in the three previous years. All but one serious assault occurred within the campsite areas."
Crimes detected
Chief Superintendent Eddie Smith's report said that petty assaults rose from 15 to 36 and there were 11 crimes of threatening behaviour.
Drug offences made up the majority of recorded crimes at 2015's festival, in line with previous years.
The report said: "One of the challenges in relation to drugs and serious violent crime brought to T in the Park 2015, was that of the presence of what was assessed to be a particular type of hallucinogenic ecstasy/MDMA drug, although the impact of this is anecdotal rather than definitively evidenced.
"One particular serious assault appeared to be directly related.
"With regard to sexual crime, a rape was recorded occurring in the campsite area.
"A sexual assault occurred in the village area of the campsite. Both these crimes were detected."
Procedures reviewed
The number of thefts decreased by 13%, from 136 to 118, with the majority of these being committed in the festival campsite.
The report will go before Perth and Kinross councillors on 3 February.
A DF Concerts spokeswoman said: "Safety is our highest priority and this type of behaviour is no more welcome at T in the Park than anywhere else.
"We work in close co-operation with the police, emergency services and our security team every year to review procedures with a focus on delivering a secure and enjoyable festival.
"It's also important to note that the vast majority of fans come to the event every year to listen to music and have fun with their friends and are praised for their positive behaviour."
The company said it had recently appointed a new T in the Park security officer as part of "ongoing plans to address some teething issues from the 2015 event".