Hardship fund for Dundee council tenants 'the ultimate safety net'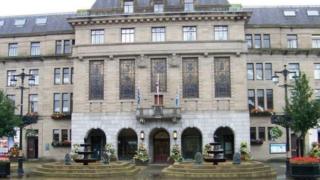 A £250,000 hardship fund offering assistance to Dundee council tenants struggling to pay their rent could be introduced later this year.
The fund is aimed at preventing tenants in council housing being made homeless.
Grants from the fund will only be made to those who have difficulty making rent payments and who meet qualifying criteria.
The city's housing convener John Alexander said the fund would be "the ultimate safety net".
Mr Alexander said: "Up to now, we have been successful in limiting the impact of welfare reform on our tenants by putting in place a number of ways of helping them.
"Discretionary Housing Payments, debt advice and giving priority to tenants requiring rehousing as a result of the bedroom tax have all played a positive part.
"The new hardship fund will provide them with the ultimate safety net after all other avenues have been exhausted."
Only applicants who have been turned down for a Discretionary Housing Payment will be considered for a hardship fund award.
Councillors will be asked to approve details of the fund at a meeting next month.