Tay Road Bridge drivers warned over flouting wind restrictions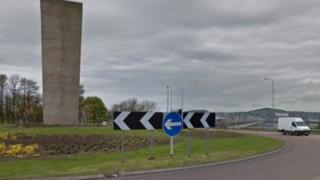 Drivers of high-sided vehicles flouting restrictions on the Tay Road Bridge during high winds may be prosecuted, police have warned.
The bridge's control room said some drivers were ignoring the restriction, which bans high-sided vehicles when gusts reach 60mph.
The bridge was closed to all traffic on Friday morning, with barriers preventing any vehicles crossing.
But there are no measures to stop vehicles during the 60mph restriction.
Bridge officers said variable message signs leading up to the bridge are always kept up to date and regular traffic updates can be heard on local and national radio.
'Vitally important'
Councillor Margaret Taylor, chairwoman of the Tay Road Bridge joint board said: "These restrictions are vitally important for the safety of drivers.
"The bridge is not safe for high-sided vehicles when winds are strong. So please be patient and check the conditions before travelling.
"There are alternative routes for those who cannot cross the bridge and I would urge everyone to check the conditions before travelling."
The bridge is closed to all traffic when winds reach more than 80mph.
At 60mph winds the bridge is only open to cars, unmodified transit vans and single-decker buses and the central walkway is closed to all users.
Insp David Hynd, from Tayside Division's road policing unit, said: "Restrictions are in place for the safety of all road users.
"Drivers who decide not to adhere to restrictions may be charged under road traffic legislation and consideration may also be given to the charge of reckless conduct, as their actions endanger themselves and others and can result in very serious consequences.
"Motorists should be mindful of any travel restrictions and should plan their journeys accordingly."