Job loss fears at Dundee animal health products factory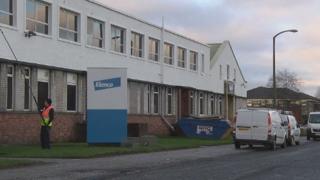 Up to 160 jobs at an animal health products factory in Dundee are at risk after its US-based owners announced they are pulling out of the city.
Elanco's plant will be placed on the market in a bid to protect 130 manufacturing jobs at the Dunsinane Industrial Estate site.
A formal consultation will take place with 30 global support staff who will not be employed by any potential buyer.
Elanco said the plant would close if a new owner could not be found.
Staff were told of the company's decision at a meeting on Wednesday.
Maria Zampaglione, Elanco's Europe, Middle East and Africa communications manager, said: "We understand the announcement will generate uncertainty and concern among employees, so we are very sensitive to these needs.
"We'll keep them informed throughout the entire process, that's a strong commitment from our side."
'Difficult decision'
Elanco, which is a subsidiary of global pharmaceutical company Eli Lilly, said finding a buyer was one of its "top priorities" over the coming months.
In statement, the company said: "The difficult decision was reached as part of an in-depth evaluation of our global manufacturing operations, allowing Elanco to maintain a competitive advantage in the continually changing animal health business.
"It is in no way a reflection of site performance at Dundee.
"If efforts to find a suitable buyer are unsuccessful, we will commence the transfer of product supply to other manufacturing sites, leading to a site closure.
"If this were to occur, the company anticipates the transition of production would take approximately two years to complete."
Elanco has operated at the Dundee site since January last year after Eli Lilly bought Swiss-based Novartis's animal health division for approximately £3.5bn.