V&A Dundee People's Postcode Lottery funding hits £500,000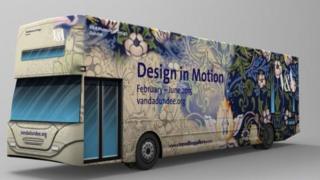 V&A Dundee's community projects have received £500,000 of People's Postcode Lottery funding, the museum has confirmed.
Last year's Design in Motion exhibition, which took the work of designers to 85 locations was funded by the subscription lottery.
V&A Dundee said the support enabled twice the number of venues to be reached as originally planned.
The £80.1m museum at Dundee Waterfront is due to open in 2018.
It is being funded by the Scottish government, Dundee Waterfront Project, the Heritage Lottery Fund, Creative Scotland and private backers.
Other projects supported by the lottery funding include Living Room for the City, V&A Dundee's first community engagement project, and the current Schools Design Challenge.
The challenge involves all secondary schools across Dundee and Angus, with more than 1,000 pupils designing ways of improving their schools or school lives. Ten ideas have been selected, with pupils working alongside professional designers to develop their projects.
Integral part
Sarah Saunders, V&A head of learning and engagement at V&A Dundee, said: "Community projects are an integral part of the work of V&A Dundee, as they allow us to work with people all over Scotland and share the inspiring, exciting work of designers."
Clara Govier, head of charities at People's Postcode Lottery, said: "V&A Dundee is a uniquely exciting project which is already having a huge impact in communities, engaging with schools and taking designers and their work out across Scotland."