School volunteer Roz Scott is Dundee's new Citizen of the Year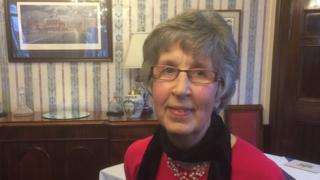 Primary school volunteer Roz Scott has been named as Dundee's Citizen of the Year 2016.
Mrs Scott, 68, was nominated by staff and pupils at the city's Ardler Primary School, where she volunteers two days a week.
The retired educational psychologist, who is married with two sons, said she was "almost overwhelmed" at the award.
Each year Dundee City Council seeks out a Citizen of the Year who has provided outstanding service to their community.
"Huge surprise"
Mrs Scott, who has volunteered at the school since 2009, said: "It was a huge surprise. To win it is almost overwhelming.
"It's a tribute to Ardler Primary that this is what they're like. This is their way of thanking you, in an overwhelming way.
"I just love going in there. I go in there twice a week and it's just great."
One of Mrs Scott's successes was the creation and implementation of the Discovery Group, a programme designed to support and enhance children's learning and confidence.
"Inspiring individual"
Dundee Lord Provost Bob Duncan said: "Roz Scott stood out amongst this year's applications.
"She has spent so many years helping children at Ardler Primary reach their full potential.
"She is an inspiring individual and one who encourages, supports and motivates pupils.
"Roz is an exceptional candidate and truly a worthy winner."