Scottish government funds for Central and Angus schools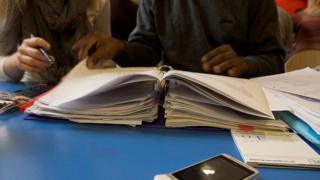 A Stirlingshire school supporting children with additional needs will receive part of a £230m Scottish government education investment.
Mariner Support Service in Polmont is one of 19 schools across Scotland being upgraded or replaced.
Children and young people are referred to the Mariner Support Service by their mainstream school.
First Minister Nicola Sturgeon confirmed more than 6,500 pupils are set to benefit from the upgrades.
Abercromby Primary School in Tullibody, Clackmannanshire, St Margaret's Primary School in Stirling and three primary schools in Angus will also receive funding.
The £230m investment, part of the final phase of the £1.8bn 'Schools for the Future' programme, will take the overall number of schools being delivered to 112. All 19 schools will be completed by 2020.
First Minister Nicola Sturgeon met pupils and teachers at South Ayrshire's Queen Margaret Academy, which is set to be replaced.
Ambitious plan
Ms Sturgeon said: "This ambitious plan will replace older schools across the country with new, modern buildings that will bring benefits to the whole community.
"We had planned to build or refurbish 55 schools across Scotland, these new schools now take the total to 112 - more than double our original target.
"Since 2007, we have worked with local authorities to rebuild or refurbish 607 schools, resulting in the number of children educated in 'poor' or 'bad' condition schools falling by 60%."