T in the Park 2015 'failings' highlighted in review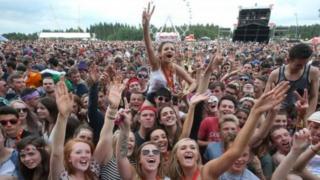 T in the Park organisers must not repeat the failings of 2015's event at Strathallan if it is to continue there, a report has concluded.
The 2015 festival, the first at the Perthshire site, was criticised over traffic congestion and concerns over crowd safety.
A council review said "confidence has been undermined" following DF Concerts' management of last year's event.
DF Concerts said it was "entirely focused" on delivering improvements.
The three-day festival, which attracts daily crowds of around 85,000, moved to Strathallan Castle after 18 years at Balado in Kinross.
The review by Perth and Kinross's Environment Service director Barbara Renton said 2015's event drew the largest number of complaints and negative comments in the festival's history.
Safety concerns
Issues included "significant traffic congestion" with patrons taking several hours to leave the site and local road network on Saturday and Sunday nights and tailbacks for several hours during the day on Monday 13 July.
The report noted safety concerns over numbers of pedestrians on unlit minor roads at night, in heavy traffic and "perceptions of a general lack of crowd safety and security on site at the event".
There were also complaints over disruption to the local community, particularly in relation to the traffic issues, antisocial behaviour and littering.
The report concludes: "The problems experienced at the event were more attributable to a combination of "teething problems" on a new site, and deficiencies in the organisers' event delivery.
"As a result, council staff will need substantial reassurances and evidence from DF Concerts that detailed plans will be prepared on time, and the event will be delivered more effectively, before officers could have confidence in recommending that the event takes place at Strathallan again."
High Standards
DF Concerts said: "We're incredibly disappointed that, for the first time, we did not achieve the high standards of event management and customer service that we have set for ourselves which the council and our customers have, quite rightly, come to expect.
"We note all points of Perth and Kinross Council's report as published and remain focused on implementing key changes for 2016. We will not be disappointing ourselves, Perth & Kinross Council, the local community and especially our fans in 2016 and in truth, we look forward to being able to demonstrate that.
"We're entirely focused on delivering a fun, safe and successful festival that reminds everyone why T in the Park became Scotland's favourite music festival in the first place."