Food poisoning victim awarded £263,534 compensation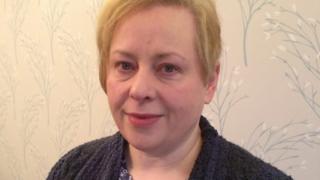 A Falkirk woman who suffers from long-term health problems after contracting food poisoning at a restaurant has been awarded £263,534 damages.
Tracey Rae, 44, developed severe symptoms after eating a chicken liver and beetroot salad at the Scotch Malt Whisky Society in Leith in April 2009.
Ms Rae sued the catering company responsible after developing post-infection irritable bowel syndrome.
She said she would "trade any money" to return to her previous quality of life.
Speaking exclusively to BBC Scotland, the married mother-of-two said: "I'm in pain on a daily basis, I suffer from cramps and spasms. I have to go to the toilet between three and four times a day and on a bad day it can be 20 times. That has an impact on me and how I manage my life.
"I have to take anti-diarrhoea medicine and paracetamol to slow down my gut, I suffer from fatigue and joint and muscle pain and I struggle to remember things.
"It has made me quite anxious because I have been out on occasions before and had to dash to the toilet and maybe not made it on time. If I do go out, I'm very restricted in what I can eat, so it's very stressful and I try to avoid social situations much more than I did before.
"Occasions where we should be able to go out as a family and just relax and enjoy ourselves, these are the most challenging. So it's had a knock-on impact on my husband and my children."
Ms Rae, a part-time adult literacy tutor, sued James Freeman, trading as Saffron Private Catering, who admitted liability.
She was awarded the six-figure sum following a civil trial at the Court of Session in Edinburgh.
Terrible problems
A jury was told Ms Rae had gone for a meal at the Giles Street restaurant with her husband and another couple, but suffered stomach cramps, nausea and severe sweating afterwards.
Ms Rae later passed blood and was diagnosed with post-infection irritable bowel syndrome, after contracting campylobacter.
She was off work for six weeks and had to drop down to part-time hours due to her symptoms. She said the decision to sue Mr Freeman had not been taken lightly,
"The main trigger was when I went to the gastroenterologist 18 months down the line still having terrible problems and was told this would be with me for life," she said.
"Not only had I lost earnings from this, I was left with the pain and the embarrassing symptoms.
"You just assume that within a couple of weeks you'll be back to living your normal life again.
"In an ideal world I would rather this didn't go to court and obviously all the details of my personal medical history in what is quite an embarrassing condition being played out like that.
"The amount of money to me is really quite irrelevant because I'll never get back to what I was before. I would trade any money to be how I was before so my family could have a normal life."
Health problems
Ms Rae's lawyer, Stewart White from Thompsons Solicitors, said: "It is unfortunate that the actions of insurers in this case have put Tracey through years of waiting for this judgement.
"She is a thoroughly decent person and her response to the ongoing health problems is admirable.
"The money won't herald the return to the quality of life she once had or the career progression she had hoped to pursue but she can now be satisfied that justice has been done."