New masts in Waverley paddle steamer refit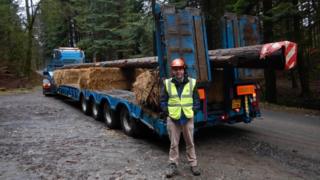 One of Scotland's most famous ships is to be re-masted with wood from a forest in Perthshire.
The new masts - made with Douglas Fir trees from Faskally Wood near Pitlochry - are part of a major re-fit for the Waverly paddle steamer.
The 17-metre logs are being taken to a boatyard in Arbroath to be prepared before being fitted to the Waverly in Glasgow.
Forestry Commission Scotland said the firs had been planted in the 1960s.
The commission's Doug Halliday said: "This is quite an unusual request but not entirely new to us.
"We have had approaches in the past, including the possibility of finding a mast for a replica Viking long ship, but it's a great feeling when we are given the go-ahead to cut some suitable trees."
The trees were felled in August last year and will be at Mackay's Boatyard in Arbroath for about three weeks, where a team will remove the bark and plane the logs using traditional boat-building tools.
The Waverley was built in 1946 and is the last sea-going paddle steamer in the world.