Horse penis joke 'could have caused war'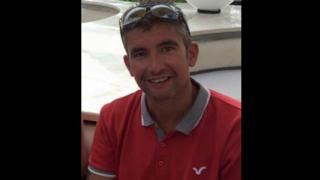 A Scottish worker deported from Kyrgyzstan has said police there warned him a joke about a traditional sausage could have led to war with the UK.
Michael McFeat from Perthshire was expelled by the Kyrgyz authorities after comparing the national dish with the private parts of a horse.
Speaking to the Sunday Post newspaper, Mr McFeat described how he was helped to escape "a lynch mob".
He has now been banned from Kyrgyzstan for five years.
Mr McFeat told the newspaper he actually believed the traditional Kyrgyz dish - chuchuk sausage - was a horse's penis, but the remark on Facebook angered his local colleagues.
He had been working at the Kumtor gold mine, but had to be smuggled away after the incident.
When he arrived at Manas Airport in Bishkek, he was arrested by police under race hatred laws.
Mr McFeat said: "The police told me my act could send Kyrgyzstan to war with the UK."
After appearing in court and making an apology for his remarks, Mr McFeat was put on a flight to Edinburgh.
He added: "I was told there was a 17-page petition demanding I be jailed and the mine went on strike after I left, so they were making an example of me.
"I've always been up for a joke but this was one time I wasn't joking and it's been blown out of proportion."