Repeat offender given 'chance' after Perth punch trial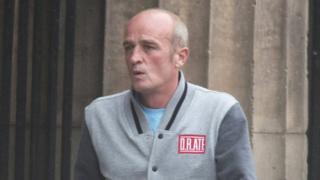 A violent serial offender has been offered a "chance" after being found guilty of repeatedly punching a woman.
Steven Gallacher was handed a community sentence - though the sheriff admitted many others would have jailed him.
The 47-year-old, from Perth, made headlines in 2013 when it emerged he had never been sent to prison after committing 25 crimes over 17 years.
He was finally jailed in August 2013 in an incident which involved an attack on a police officer.
In his latest trial, Perth Sheriff Court heard Gallacher had assaulted Donna Freeman at a house in the city on 16 October 2015.
Sheriff Simon Collins told Gallacher: "You are under no illusions, given your previous offending history, that there was a very real possibility of custody in this case.
"But I am not going to send you to prison. You are being given a chance to avoid custody. Some of my fellow sheriffs would have sent you to prison for a significant period."
Instead, he ordered Gallacher to attend the Positive Relations group project for domestic abusers and told him to carry out 250 hours unpaid work in the community.
Gallacher's criminal career began in 1996 and since then he has been convicted of attacking police officers, domestic violence, dangerous driving, assault and possessing drugs.