Perth woman jailed for knife attack on friend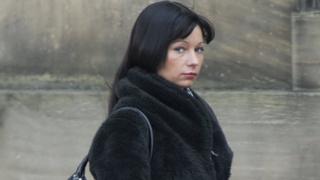 A woman who left her friend scarred for life by stabbing her repeatedly and then wrapping the injuries in tape has been jailed for 18 months.
Tracey McGregor, 32, picked up three large kitchen knives to carry out the unprovoked attack on Ann Mills, 46.
The court heard that McGregor told her afterwards: "They're only superficial. I could have done worse."
McGregor, from Perth, admitted permanently disfiguring Ms Mills at her home in September 2014.
Perth Sheriff Court heard that Ms Mills was stabbed in the abdomen, leg and arms during the attack.
Fiscal depute Gavin Letford said: "She raised her arms to defend herself and the accused began to jab her body with the weapon. Her body was struck several times and she felt blood pumping from a slash wound to her upper arm.
"The accused stopped attacking Miss Mills and as she did she was seen to have two knives in one hand and one knife in the other. The blades were six to eight inches in length."
'Serious risk'
Mr Letford said McGregor then wrapped several layers of sticky tape around the wound to stop it bleeding.
Sheriff Lindsay Foulis told McGregor that he considered she posed a danger to the public and ordered her to be placed under supervision for a further nine months after her release.
He told her: "This is a concerning case... I am of the view that you constitute a serious risk of harm to others."
He noted she had previous convictions for violence including one where she hurled a hamster down a flight of stairs.