New Dundee University centre to address forensic 'crisis'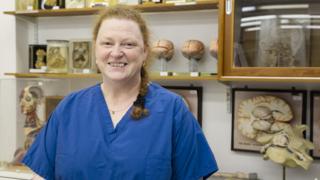 The University of Dundee has been awarded £10m to establish a new research centre for forensic science.
The grant comes from the Leverhulme Trust and is aimed at ensuring the science remains a "vital component" of the criminal justice system.
Dundee is one of four UK universities to win the new Leverhulme Research Centre awards.
The new centre will be led by Prof Sue Black, who said it would address a "crisis" in forensic science.
The professor is currently director of the university's centre for anatomy and human identification.
"Forensic science is a highly valued component of the criminal justice system but it is widely recognised to be in crisis," she said.
"We have research gaps in a range of evidence types, from fingerprinting to DNA analysis and we have to raise the bar in the standards of science underpinning these vital techniques."
The professor said the major investment was recognition of the university's international standing in forensic science, but added that work was needed to restore "public and judicial confidence" in the field.
The competition for the Leverhulme Research Centre awards is designed to encourage original research which establishes or reshapes a significant field of study.
The other Leverhulme centres are in the universities of Cambridge, Liverpool and Sheffield.