Land manager Graham Christie fined over buzzard trap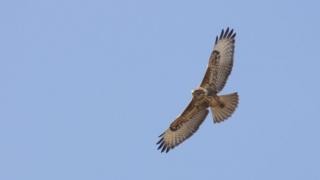 A land manager has been fined after one of his gamekeepers admitted catching a buzzard in a trap in Stirlingshire.
Graham Christie, who owns Dunmhor Shooting, was ordered to pay £3,200 after a court heard the gamekeeper was under "pressure" to target the birds.
The distressed buzzard was found by a dogwalker in March 2013.
Christie, 56, is only the second person to be convicted under laws that make landowners and managers responsible for their gamekeepers crimes.
The legislation, which came into effect in 2012, created a new offence of "vicarious liability" which means that a person who has shooting rights over land - or who controls the exercise of such rights - can be found guilty of crimes committed by an employee.
Stirling Sheriff Court was told that the buzzard had been trapped on an estate near Port of Menteith by gamekeeper James O'Reilly.
Trap jaws
O'Reilly pleaded guilty to illegal trapping and improper use of snares in May.
Kate Fleming, prosecuting, said the buzzard was caught by its leg in a gin trap set near a pheasant pen and was "flapping about and in obvious pain".
The dogwalker took the bird home and called the SSPCA, who took it to a rescue centre, where despite treatment it had to be put down five days later.
Police went to the scene and found a small, factory-made trap of a kind not sold in the UK, its jaws controlled by two very strong springs.
Ms Fleming said: "It was set next to a deer carcass on a forest ride, and in this situation it would have been entirely indiscriminate as the type of bait is extremely attractive to a range of mammalian and avian scavengers, from crows to eagles and from weasels to badgers."
'Political' law
The court was told that historically gamekeepers could legitimately control birds of prey, but the practice had become illegal in 1954.
David McKie, defending, described the vicarious liability law as "a very political piece of legislation brought in to target the poisoning of raptors".
He said Christie was actually in Cuba when the buzzard was trapped.
He said: "He accepts he didn't do enough, and ought to have done more. He has added a clause to the contract of all gamekeepers saying they must abide by the Act."
Sheriff Gillian Wade QC told Christie: "Whether it is to do with politics or not, the law seeks to deal with those who benefit from the proceeds of these crimes, and that is why you have been prosecuted.
"The law takes a serious view of these matters."
The buzzard was found on the 5,000-acre Cardross Estate, which is owned by Sir Archie Orr Ewing.
Commenting after O'Reilly was convicted in May, Sir Archie said the estate had no "involvement whatsoever in the sporting management of the land in question".
"The gamekeeper is employed by the third party and has never been employed by the estate," he added.