Contract dispute delays Dundee-Amsterdam air route plans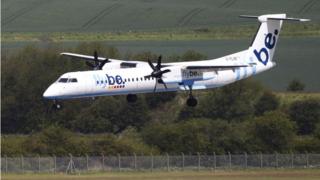 A contractual dispute is holding up plans to launch a new air route between Dundee and Amsterdam.
Flybe learned on Thursday it had secured UK government funding to help it establish the route.
The announcement in the chancellor's Spending Review was welcomed by Dundee Airport operator HIAL.
But Flybe later indicated the plans would not be taken forward until after an unspecified contractual issue with HIAL was resolved.
In a statement, the airline said: "Flybe looks forward to working with HIAL to progress plans for this proposed new route once it resolves the airline's current contractual issue, the details of which remain commercially confidential."
HIAL said discussions with Flybe on "an ongoing contractual matter" had "no relevance" to the UK government's decision to support a new Dundee to Amsterdam service.
Flybe had applied for funding for the Amsterdam route through the UK government's Regional Air Connectivity Fund.
Chancellor George Osborne confirmed on Thursday that the application had been successful.