Three teenage girls missing from Stirling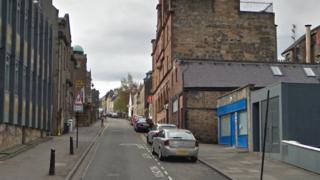 Police are searching for three teenage girls from Stirling who went missing on Tuesday evening.
Chelsea Young, 14, Caroline Williamson, 15 and Lisa-Marie Smith, 15, were last seen in the city's Spittal Street at about 21:20.
None of the girls have been in contact with their families since then and officers said there was "growing" concern for their welfare.
Police have appealed for anyone with information to contact them.
Descriptions of the three girls have been issued by Police Scotland:
Chelsea is described as white, 5ft 3in tall with long dyed red hair, fair skin and blue eyes
Caroline is described as, white, 5ft 2in tall with shoulder-length red hair and fair skin
Lisa-Marie is described as white, 5ft 1in tall with long black hair and fair skin
Sgt Murray McKenzie said: "We are eager to locate all three girls as soon as possible to ensure they are safe and I would ask anyone who knows their current whereabouts to contact police immediately.
"In addition, I would also request that Chelsea, Caroline and Lisa-Marie get in touch with either police or someone they trust and let us know where they are and that they are alright."