Murder bid rapist George Cameron back behind bars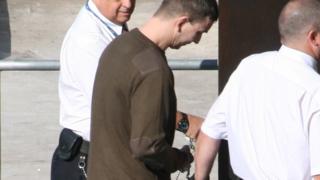 A rapist who also has convictions for attempted murder and causing death by reckless driving is back behind bars after flouting his release conditions.
George Cameron, 35, was last jailed in 2002 for attacking a 23-year-old woman in Dundee, leaving her brain-damaged.
He was released last year, but was banned from having contact with women.
The court was told he wielded a knife when police officers arrived to investigate whether he had breached the condition.
He pleaded guilty at Dundee Sheriff Court to breaching the terms of a sexual offences prevention order and was jailed for 41 weeks, with the sentence backdated to when he was taken into custody in August.
Cameron was released in 2010 after serving two-thirds of his 12-year sentence, but was recalled to jail just weeks later after flouting licence conditions.
He served the remainder of the sentence and before his release in March he was served with a sexual offences prevention order that banned him from having any contact with women and forced him to declare any "friendships or social relationships" with women he meets.
Knife threat
However, police were tipped off in August that he was in a "social relationship" with a woman.
The woman subsequently had her daughter taken from her care because of her friendship with Cameron.
The court heard that when officers turned up at his flat in Dundee, Cameron pulled out a knife and said he was going to "cut his throat out".
Fiscal depute Vicki Bell told the court: "He said he had never breached his order then lifted up a large black handled kitchen knife.
"He shouted 'I'm not going back to jail, get out of my house'.
"He walked towards them with the knife at his throat."
The court heard that the woman Cameron attacked in 2002 was consigned to a "living death" after being left with horrific brain damage which means she cannot speak or feed herself.
He was previously jailed for five years for causing death by reckless driving before being given six years at Reading Crown Court in 1998 for rape.