M-I Swaco lodge plans for major barite mine in Perthshire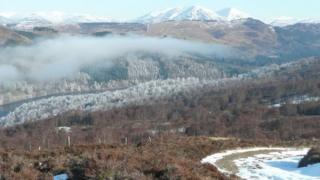 An oilfield services company has lodged plans to create a major new barite mine north of Aberfeldy in Perthshire.
Duntanlich, to the north of the town, has the only known significant deposits of barite in the country that are economic to mine.
M-I Swaco said the mineral was "vital" to the North Sea oil and gas industry. There are believed to be 7.5m tonnes of it at Duntanlich.
The company has lodged its plans with Perth and Kinross Council.
M-I Swaco wants to open the new mine to replace its existing one at Foss, which has operated since 1985 but is becoming "increasingly difficult" to mine. Barite is largely used in drilling fluids during oil and gas exploration.
A previous application to develop a mine at Duntalich was turned down in 1996, but M-I Swaco said it had now addressed previous concerns after three years of studies on the visual impact and potential problems for local roads.
'Skilled employment'
The company said the new proposal ensured the development could not be seen from the nearby viewpoint of Queen's View and had "minimal visibility" from the rest of the surrounding area.
Mine traffic - which could be carrying 120,000 tonnes of material each year - will travel on a new access route from the site to the A827, avoiding towns and villages in the Tay Valley.
Consultations have been held with the communities of Ballinluig, Pitlochry and Aberfeldy.
The company hopes the mine will provide skilled employment for about 30 people from the local area.
Ian Hughes, project manager for M-I SWACO said: "We are clearly delighted to be able to be lodging this planning application, which will ensure the UK is self-sufficient in barite.
"Such a project will not only have a significant positive local economic impact, diversifying the economy of this rural area where employment is reliant on tourism and forestry, but will also have national significance in terms of providing vital continuity of supply for the North Sea oil and gas industry."