Investment at Dundee Michelin factory as Ballymena jobs go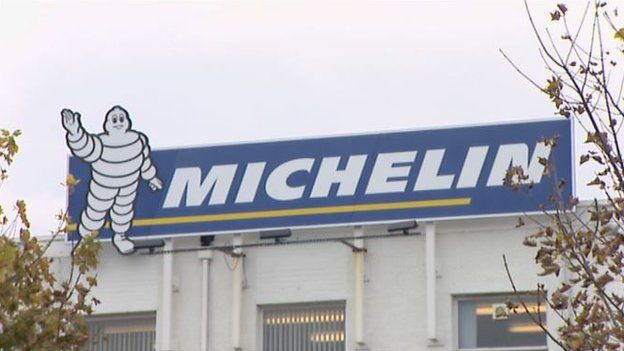 Tyre manufacturer Michelin is to invest more than £50m at its factory in Dundee.
The company said new machinery to make larger tyres will see production increase by nearly a third, with the city sharing in 100 new jobs created across the firm's UK operations.
The French firm said it needed to concentrate production in larger sites.
Michelin is Dundee's largest industrial employer, with almost 1,000 staff at the factory in Baldovie.
It is to invest £52m at the site over the next five years, installing new machinery to make larger tyres and building a new 20,000 square metre warehouse.
Dundee will also share in 100 new jobs being created, alongside another factory in Stoke-on-Trent, with staff currently employed at the Ballymena potentially to be offered jobs there.
Michelin said the County Antrim facility was "not capable of making the high tech tyres of the future", and was unable to compete with other European plants.
A spokesman said the firm had "developed these proposals to maintain its leadership position by responding to market changes, increasing competitiveness, improving manufacturing efficiency and enhancing customer service".
Dundee's two MSPs both welcomed the "fantastic" news of the local investment.
Shona Robison said: "Management, unions and employees at Michelin in Dundee have worked hard over four decades to keep the company competitive and have given Dundee a strong international presence in the industry.
"The new machines and equipment and the large warehouse to be built will enable the Dundee plant to be transformed into a state of the art factory and see greatly increased production in a section of the market for larger tyres which is expanding. This is a fantastic investment for Dundee."
Joe FitzPatrick said it was "great news", adding: "The significant investment in the Dundee plant shows Michelin have given a huge vote of confidence in the city and in the Dundee workforce, and everyone in the city can be proud of that."
Related Internet Links
The BBC is not responsible for the content of external sites.