New creative space for comic artists in Dundee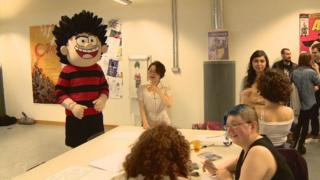 Stars of the comics industry made an appearance in Dundee to help preview a new studio for artists and writers in the city.
The Dundee Comics Creative Space (DCCS) will officially open in 2016, aiming to produce the next generation of artists.
Dave Gibbons, Tanya Roberts, Norrie Miller and Letty Wilson appeared at a preview event to pass on advice.
The DCCS is a social enterprise developed by the University of Dundee and Dundee Place Partnership.
The event was part of the first day of the Dundee Literary Festival, which runs until Sunday and includes 50 talks, readings and workshops.
Dr Chris Murray, operations director of DCCS and a senior lecturer at the university, said: "We are delighted that prominent figures from the world of comics are once again taking part in the Dundee Literary Festival.
"The point of DCCS is to help young comics enthusiasts to develop their skills and nurture the Dave Gibbons and Cam Kennedys of tomorrow.
"This is a really exciting development for Dundee and will help cement our place as the home of the British comic industry."