'End of an era' as last Bolkow air ambulance to retire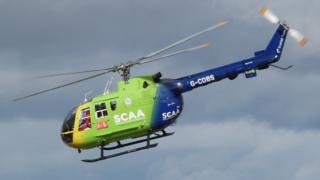 An air ambulance which is the last of its kind in Britain is gearing up for its final flight.
Scotland's Charity Air Ambulance currently operates the last Bolkow 105 chopper in the British Helicopter Emergency Service.
The Perth-based service is set to take delivery of a new helicopter, a Eurocopter 135 maintained by Bond, ushering the Bolkow into retirement.
Scotland's first Bolkow air ambulance was introduced in Dundee in 1989.
The German-made helicopters were part of the original trials the Scottish Ambulance Service ran for an airborne service in Tayside, and more went into service in Inverness and Prestwick in 1993. Both sites have since upgraded to Eurocopters.
To mark the final days of the last of the Bolkow in active air ambulance service, crews who served on the earliest flights met at SCAA's Perth Airport base.
Former air ambulance paramedic Gerry Kelly said: "The Bolkow has certainly served HEMS well.
"She might have been overtaken by newer aircraft but she can bow out with pride. It will be strange not to see her flying anymore in response to emergency missions across Scotland - she's served this country well."
The current helicopter will continue to fly missions until the new Eurocopter arrives in November.